Flowers of the Flesh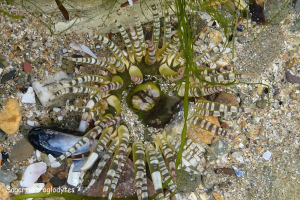 Flowers of the Flesh - UK and Ireland : Sea Anemones. Initially a Weekly ❤️ iFocus…now a personal project kept for the comments. . Sea Ane
Sea Anemones.
Initially a Weekly ❤️ iFocus…now a personal project kept for the comments.
.
Sea Anemones - Actiniaria
Vernacular: blood-sucker (Cornwall), jilly (NE England), herring-shine (Yorkshire), sea nettles, paups, sea paps (Scotland), selkie paps (Orkney)
.
The first photo by Ade is from
https://www.ispotnature.org/communities/uk-and-ireland/view/observation/830076/sea-anenome
The second photo by Major Bombylius is from
https://www.ispotnature.org/communities/uk-and-ireland/view/observation/784057/snakelocks-anemone
The Beadlet Anemone photographs are my own.
.
Sea Anemones are beautiful and mysterious in equal measure. Said to look like underwater flowers and named after the terrestrial flowers, Anemones. Being invertebrates, not plants, Sea Anemones are classified with the corals in the class Anthozoa, flower animals. Anemones have a cylindrical column (body), a pedal disc (base) and tentacles which circle a single orifice which food and waste flow through. They come in a variety of colours and some cover their bodies with sand and shells. While they might not look like voracious predators, Sea Anemones use their tentacles to sting and capture the fish, shrimps, plankton and other small animals they eat.
.
If you are not an iSpotter who is knowledgeable about Anemones, now is the time to get acquainted. For despite what might seem like an air of the exotic, you'll have a good chance of finding one of our most common - Actinia equina, Beadlet Anemone. The Beadlet is one of the few Anemones that can survive on the upper and mid-shore, usually in rock pools and damp crevices where they can keep wet. Out of water, the tentacles retract to retain moisture and the Anemone resembles a circular blob of jelly. The ability to produce mucus also helps the anemone to protect itself from drying out and, glide across rocks. It is named after the acrorhagi, a single ring of stinging bright blue 'beads' at the base of the tentacles. The beads are inflatable and can be used in defence or as a weapon to fight off other Anemones. Sometimes a number of small Anemones will be attached to the rock beside the adult. This is because Beadlets reproduce by internal fertilisation and the young are released, fully formed, through the adult's orifice.
.
And now some of the Anemones that are found less often:
.
Actinia fragacea, Strawberry Anemone's name is a reference to the distinctive red strawberry-like markings on the column. There is also a green variety. Unlike, the Beadlet Anemone the Strawberry Anemone does not like bright light and hangs downwards, making it more difficult to find. It does not brood it's young. They are usually found on the south and west coast of Britain.
.
Named after flowers twice over, the crimson and grey Urticina felina, Dahlia Anemone is the biggest UK intertidal Anemone, up to 15cm diameter. It has up to 160 short tentacles, arranged in multiples of ten around the central disc and thought to resemble Dahlia petals. They are usually found under rock hangings in shaded pools.
.
The daisy-like double named Cereus pedunculatus, Daisy Anemone has 500-1000 short patterned tentacles arranged in multiples of six around the central disc. It can be found in rock crevices but often buries itself in sand albeit remaining firmly attached to stone. They are usually found on the south and west coasts of Britain.
.
It's obvious why Anemonia viridis, Snakelocks Anemone got its name. The long tentacles are reminiscent of Medusa's head, in which hair was replaced by snakes. The squat column is about 5cm wide and, the tentacles number up to 200. These tentacles are normally bright green with purple tips and, are home to a microscopic algae (zooanthellae). Living in bright rock pools, the tentacles are normally extended in order to produce energy from sunlight.
.
I digress. Since Anemones cannot be preserved in lifelike condition, Leopold Blaschka was commissioned to produce detailed glass models of sea life creatures including anemones for natural history museums across the world. A stunning collection of the models which are now considered beautiful works of art in their own right, are on display at The National Museum of Scotland:
https://www.nms.ac.uk/explore-our-collections/stories/natural-sciences/blaschka-models/
.
There are 345 observations of Actiniaria on iSpot. I initially selected observations submitted after 13 August 2016 and have now reset the project to collect observations submitted before 13 August 2011.There are plenty in the Gallery to choose from, open one or two and learn.
▶️ Where you can add an agreement. PLEASE do.
▶️ If you can add an alternative ID. PLEASE do.
▶️ If you can comment. PLEASE do.
▶️ If you can praise the photo or observation. PLEASE do.
▶️ Please keep an eye on the User Guide, here:
https://www.ispotnature.org/communities/uk-and-ireland/view/project/829309/ifocus-guide
.
Some helpful links, here:
Anemone Gallery: Beach stuff
http://www.beachstuff.uk/anemones_gallery.html
Fact sheet Sea Anemones: Marine Biological Association
https://www.mba.ac.uk/fact-sheet-sea-anemones
British Sea Anemones: British Marine Life Study Centre
https://www.glaucus.org.uk/Anemone4.htm
The UK non native species
https://www.seanature.co.uk/pmnhs_nematostella.html
The National Geographic
https://www.nationalgeographic.com/animals/invertebrates/facts/sea-anemones
.
❤️Volunteer to curate an iFocus here in the comments, or the Forum.
Bookings so far. Fortnightly. 27/8/21 - Mags, 10/9/21 - Spot, 24/9/21 - you?, 8/10/21 - dejayM, …..
13 Aug 2021
HB
Main navigation