Dotted and Spotted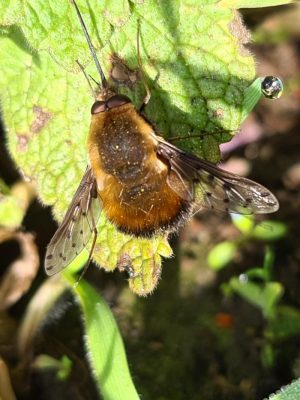 Dotted and Spotted - UK and Ireland : When is a bee not a bee? When it's a bee-fly! •Lead photo: francesca partridge •Carousel image c
When is a bee not a bee? When it's a bee-fly!
•Lead photo:
francesca partridge
•Carousel image credits:
sarahloving (most recent observation), Steve Smailes, Tiggrx, Lloyd9632, stoutcob, Ron Allen, Peter Allen, Marion J (first observation)
Identifying a bee-fly: I had what seems to be the typical reaction when I encountered my first one flitting around the pond in 2018, stunned at the size and wondering what sort of bee it was, not noticing then that it couldn't be a bee as it only had one pair of wings. Identification wasn't obvious from looking at photos of bees (no surprise there then) and so more information was needed. I did eventually find out I had seen a bee-fly and here are some of the questions I had to find answers to.
What is a bee? Very simply, bees are flying insects that are members of the Apidae family and they collect nectar and pollen. They have 2 pairs of wings. Bees are lovely but who gets close enough to count the wings?!
What is a fly? Flies are insects of the order Diptera. They have one pair of wings. I've never queried this!
What is a bee-fly? It is insect of the family Bombyliidae (order Diptera). Steve Falk's introduction to the Bombyliidae family, accessed through the Insects collection at https://www.brc.ac.uk/soldierflies-and-allies/sites/www.brc.ac.uk.soldierflies-and-allies/files/Bombylius%20ID%20guide.pdf informs us that there are "Eleven British species (twelve if you include the single photo-based record of Systoechus sulphureus) of small to medium-sized flies of rather variable appearance." The Bombylius species are associated with ground-nesting solitary bees, laying their eggs in solitary mining bee as well as bumblebee nests by dropping or flicking their eggs into the nest. When the larvae hatch, they crawl further into the nest to feed on the bee larvae. Bee-flies have a long proboscis and hover over flowers to obtain nectar: https://www.britannica.com/animal/bee-fly
Why do I rate them? They are big and furry and they don't sting or bite!
Why else are they important to me in my garden? It also means I have mining bees!
Any downsides? For me, they won't keep still enough for a good photo. But some iSpotters have managed some fantastic shots that should tempt everyone to keep an eye open for them.
The UK has 4 species of Bombylius bee-fly, two of which are very rare in the UK. General details for the four are:
Bombylius major (Dark-edged Bee-fly) February-March emergence and common, many hundreds of observations on iSpot. This was what I'd spotted in 2018;
Bombylius canescens (Western Bee-fly) May-August, rare, confined to south west England and south Wales, very few iSpot observations;
Bombylius minor (Heath Bee-fly) July-August, rare, confined to Dorset and the Isle of Man, very few iSpot observations;
and last but not least, the unashamed focus of this project:
Bombylius discolor (Dotted Bee-fly) March-June, fairly rare. with just 39 iSpot observations as of today, May 7th, 2021.
I do know I've never seen Bombylius discolor because the wings are dotted or spotted! I'm desperate to spot one but I don't live in their area, even though they're spreading northwards - but this is a good enough reason to spend time further south! They are mostly confined to southern England and the south Wales coast from March to June and are most frequent in April.
To become familiar with their individual differences and look-alike confusions, go to this page, which itself has many good links: https://www.brc.ac.uk/soldierflies-and-allies/sites/www.brc.ac.uk.soldierflies-and-allies/files/Bombylius%20ID%20guide.pdf
To see if you're likely and therefore lucky enough to come across Bombylius discolor in your area, check out not only the iSpot observations in the Observation List and Map, but also the NBN atlas in the following link, noting the most northerly confirmed occurrence so far, recorded in April 2020: https://species.nbnatlas.org/species/NBNSYS0000007942
Warwickshire Wildlife Trust highlights current factors affecting Bombylius discolor in their area (revised 2018) and of course, these might apply to other areas, detailed as follows
"Current Factors Affecting the Species
*Scrub encroachment and other successional processes that result in the
loss of large mining bee colonies.
*Ongoing quarrying where this results in catastrophic losses to host nesting
colonies and foraging areas (piecemeal disturbance by contrast is probably
beneficial).
*Land-filling or unsympathetic landscaping of quarries and their associated
spoil-heaps.
*Damage to gorse-clad hillsides supporting strong mining bee colonies through
gorse removal, fertilising and sometimes conversion to arable.
*Removal of blossom-rich hedges and other habitats with plentiful spring
flowers near to mining bee colonies.
*The lack of formal designation (SSSI or LWS) for some of known sites,
coupled with the uncertain future facing many quarries and other brown-field
sites":
https://www.warwickshirewildlifetrust.org.uk/sites/default/files/2019-03/DottedBeefly%20March%202018.pdf
I find the detail in the BIO Info UK Species interactions very informative: https://www.bioinfo.org.uk/html/Bombylius_discolor.htm
Details of the Bee-fly Watch 2021 and much more on Bee-flies in general can be found here: https://www.brc.ac.uk/soldierflies-and-allies/bee-fly-watch
After all my reading for this project, I was thrilled to find this lovely video of a female Bombylius discolor Dotted Bee-fly here: https://www.youtube.com/watch?v=YFY4IyVSL_w
Edited 14/5/2021 as deleted as iFOCUS. Will be retained for a while
07 May 2021
NorthernTeacher
Main navigation