The Marloes collection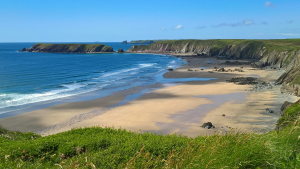 The Marloes collection - UK and Ireland : The area around Marloes, right down in the south-west corner of Pembrokeshire, is one of my favourit
The area around Marloes, right down in the south-west corner of Pembrokeshire, is one of my favourite destinations. We go there almost every year – or did until Covid-19 arrived. In 2020, for the first time, we'd managed to book a stay on both Skomer and Skokholm Islands. I have been to Skomer many times for the day, but never stayed overnight. Skokholm is special because you can only visit if you stay. But of course last year all visits were cancelled; it's been rearranged for this summer, and we may be able to go, but I'm not holding my breath.
.
So I thought a virtual visit via iSpot would at least give me a flavour of what it's like to be there. I chose an area that I'm really familiar with (except for Skokholm), and that I have walked around many times. The perimeter of the mainland section shown on the map could easily be walked in a day. (All photos are mine from previous holidays.)
.
But to be honest, I'm a teeny bit disappointed. There hasn't been an observation from the area since October 2019. That's not so surprising, given the pandemic. However, the range of observations isn't as interesting and varied as I'd hoped. There are only just over 300 since iSpot began. Here's how they break down:
.
- About 115 birds (of course birds dominate, many people visit just for the breeding seabirds). Quite a good selection, but there is a Glossy Ibis and no Oystercatcher, which strikes me as bizarre. (Edit: Actually I have found an oystercatcher now - I missed it before!
https://www.ispotnature.org/communities/uk-and-ireland/view/observation/187100/oystercatchers
)
- About 100 land-based invertebrates. No ladybirds, and few spiders.
- Nearly 60 land-based plants.
- 16 fungi and lichens (only one fungus!).
- Just 7 mammals (5 of which are seals), and 2 amphibians and reptiles.
.
Then we come to the marine observations. Derek, look away now – it reinforces your worst fears about the status of marine observations on iSpot:
.
- 5 fish (one of which was put up by me recently)
- 5 anemones and jellyfish
- 4 crustaceans (2 observations of barnacles, 2 of crabs)
- 2 marine molluscs
- NO starfish
- NO seaweeds of any kind, neither red nor green nor brown
.
So – it's disappointing, but also interesting. It has made me realise that iSpot does a good job of representing organisms (some better than others, of course). It does a less good job of representing places unless there is someone in that place who is an enthusiastic and thorough observer. Now I think perhaps next time I will take my virtual holiday somewhere else (Orkney, or one of several other Scottish locations, or rural Cambridgeshire, or even Milton Keynes…).
.
I have a few observations to add, and I promise that next time I visit I will add as many marine observations as I can (plus an Oystercatcher). Apologies to all of you who have never been here and therefore can't add to the variety! And just to reassure you, I'm not worried that the wildlife here is getting completely overlooked. The observatories and research stations on Skomer and Skokholm will be generating loads of data, and there is an FSC Centre at Dale just down the coast from Marloes.
.
FSC Dale Fort:
https://www.field-studies-council.org/locations/dalefort/
Skomer Island:
https://www.welshwildlife.org/nature-reserve/skomer-island/
(Wildlife Trust of S. and W. Wales)
Skokholm Island:
https://www.welshwildlife.org/nature-reserve/skokholm-island/
((Wildlife Trust of S. and W. Wales)
.
Bird enthusiasts might also be interested in the OxNav research group, based at Oxford University:
https://www.oxnav.org/
. Tim Guilford specialises in tracking and monitoring of shearwaters, amongst other birds, and the group has done valuable work in showing just how far the Skomer shearwaters travel to forage, consequently helping to secure the Irish Sea Front Special Protection Area:
https://jncc.gov.uk/our-work/irish-sea-front-spa
.
Oops! I forgot this:
.
There are plenty in the Gallery to choose from, open one or two and learn.
• Where you can add an agreement PLEASE do.
• If you can add an alternative ID - Please do
• If you can comment - Please do
• If you can praise the photo or observation - Please do
• Please keep an eye on the User Guide here
https://www.ispotnature.org/communities/uk-and-ireland/view/project/819772/ifocus-weekly-guide
23 Apr 2021
sarahloving
Main navigation