Ichneumonidae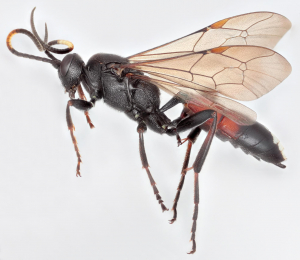 Ichneumonidae - UK and Ireland : This project will soon slip out of site from the latest list. . A recycled project - now set to coll
This project will soon slip out of site from the latest list.
.
A recycled project - now set to collect all my Ichneumonidae observations in one place.
.
I find revisiting useful when a new observation comes up that needs reviewing or when I have one of my own. So many Ichneumonidae - reminders are always useful!
.
As knowledge and experience slowly evolve, It's also difficult to remember when - "I've seen that in iSpot before and now I think I know what genus it might be - now where is it".
.
I've tried to tidy up the iSpot Ichneumonidae, Ichneumoninae and Ichneumon groups in a similar fashion to make the process a little simpler. There are however huge gaps in my knowledge so I try to err on the side of caution. Useful to remember sometimes that iSpot is not an official recording site so the bar may be set slightly lower, but not too low!
09 Apr 2021
Aldcameron
Main navigation