Common primrose Primula vulgaris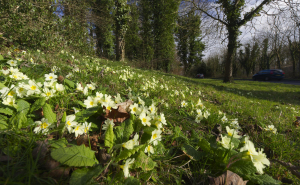 Common primrose Primula vulgaris - UK and Ireland : Common primrose Primula vulgaris I would particularly like to see observations of this species from
Common primrose Primula vulgaris
I would particularly like to see observations of this species from urban areas. Milton Keynes is now a classic site for these plants as shown in the lead photo taken at a bus stop in the centre of the city. In the early days of the city there were experiments trying to recreate woodland species understory beneath the tree and shrub plantings, in some areas the understory has done much better than the trees as the 'wrong' species of trees were planted and have now been removed (the initally planted poplars gave instant impact without having the long lived slower growing species to take over).
.
Interesting that the biological flora says that Primroses have disappeared from various woodlands near urban areas due to picking of the flowers or digging up whole plants.
.
On the other hand plants may also have been planted in hedgerows or burial grounds. There is a question of the genetic history of these plants e.g. were they originally collected far from UK and selected for fast production of flowers to maximise profit for the growers. Do these populations also have a higher proportion of non yellow flowers or other characters such as multiple flowers on the flowering stalk that may have arizen from crosses with other types of primula in the nursery.
.
https://www.britishwildlife.com/article/volume-12-number-4-page-244-251
Enhancement of amenity-woodland field layers in Milton Keynes
.
Biological Flora of the British Isles: Primula vulgaris Huds. (P. acaulis (L.) Hill)
https://besjournals.onlinelibrary.wiley.com/doi/full/10.1111/j.1365-2745.2009.01513.x
gives all the info on Primula vulgaris
.
Some of the intersting iSpot primrose observations include : the first primrose observation added to iSpot
https://www.ispotnature.org/communities/uk-and-ireland/view/observation/273/primrose
although not the earliest observed which is currently
https://www.ispotnature.org/communities/uk-and-ireland/view/observation/85223/primrose
.
What are primroses:
https://www.ispotnature.org/communities/uk-and-ireland/view/observation/797929/primrose-primula-vulgaris
in this case are either of the two photos the native species?
.
https://www.ispotnature.org/communities/uk-and-ireland/view/observation/7867/primrose
An early observation and mention of pin and thrum
.
Would be interesting to look at first or last flowering dates but with climate warming this species may flower in almost any month in one or other part of UK. With September and October being the least likely to see flowering plants. Peak of flowering is supposed to be March and April but here in Milton Keynes February (when cover photo taken) has extensive flowering before competition becomes more severe.
.
The set of images apart from image 1 were taken on 2/4/2021, they show the MK roadside primroses in full flower and actually some going over. One interesting aspect of these large numbers of plants is that about 5-10% (guess) of them are almost white rather than yellow and none of the ones in these particular roadsides were pink or other colours. Brings to mind the large populations of Fritillaria at places such as Cricklade which has a similar proportion of the plants with white flowers.
PLEASE add a link to the ❤️iFOCUS GUIDE
https://www.ispotnature.org/communities/uk-and-ireland/view/project/819772/ifocus-weekly-guide
02 Apr 2021
miked
Main navigation