Frost damage to plants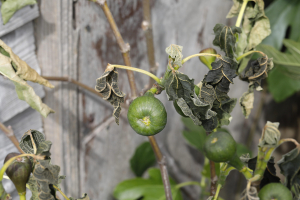 Frost damage to plants - UK and Ireland : During the week of 11-16 May 2020 there were a series of frosts which caused damage to a wide range
During the week of 11-16 May 2020 there were a series of frosts which caused damage to a wide range of cultivated and wild plants in various parts of UK, one of the worst affected areas may have been the river valleys in Milton Keynes.
Damage was shown as blackening of foliage and in some cases the plants died. An example was Geranium robertianum Herb-Robert, on the fully exposed allotment site the plant died whereas in the streets around it was growing in the cracks in pavements unharmed.
Some of the plants such as Actinidia Kiwi fruit there were no leaves left at all so could not put on iSpot as nothing to identify it by. Likely these plants were killed outright.
In the area just outside of Milton Keynes with hundreds of badly damaged ash and oak trees very many types of wild plants showed damage to their leaves, only took a very small sample of the many species I could have recorded. Suspect most species would recover within a couple of weeks but may be more susceptible to pests and diseases.
There appears to have been damage to other types of trees such as horse chestnut, not the obvious blackening of leaves but rolling up of leaves and some falling off, this is happening a week after the frost and is less easy to photograph - many whole trees are affected.
17 May 2020
miked
Main navigation