Strepsiptera of the British Isles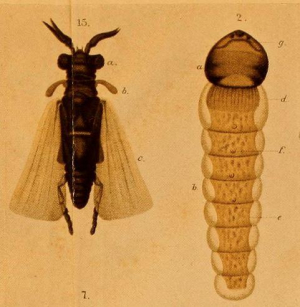 Strepsiptera of the British Isles - UK and Ireland : A project to: . i) review existing, and monitor future, Strepsiptera observations and identification
A project to:
.
i) review existing, and monitor future, Strepsiptera observations and identifications in Britain and Ireland;
.
ii) review photographs in known host species observations to see if there is any evidence of Strepsiptera visible in situ; and
.
iii) attempt to see a single live adult Strepsipteran in 2020. This is a tall order: these insects are very small, not common and seldom seen. They are endoparasites of solitary bees and a few other groups. Furthermore, the wingless female never leaves the abdomen of her host, only her cephalothorax protruding from between the segments. The males are winged; while the Diptera have their hindwings reduced to halteres, male Strepsiptera have their forewings so reduced. The males are thought to live for but a few hours, during which they are attracted to a parasitised host by sex pheromones released by the female.
.
There is an uncertain number of Strepiptera species on the British Isles list. The NBN Atlas names 16, whereas the NHM (and iSpot) give only 10. The discrepancy relates to an historic and ongoing controversy over one genus, Stylops. For a long time, it was assumed that, in common with many other parasitic insects, Stylops was a genus of specialised species, with the parasite and its host being in an exclusive relationship. As the genus parasitises solitary mining bees of the Andrena genus, and there are a great many of these (some 65 on the British list), dozens of species of Stylops were described in Europe.
.
However, in the 1970s the German Prof Ragnar Kinzelbach reduced all known European Stylops species to a single generalist species, Stylops melittae. The NHM and iSpot presumably follow Kinzelbach's lead in synonymising all Stylops under S melittae.
.
Recent DNA research challenges Kinzelbach's findings and requires a splitting of S melittae back into multiple different species. This research indicates that within the genus Stylops some species are strictly host-specific, while others parasitise a limited number of closely related species; it allowed that there may perhaps be one or two with a more generalist approach to Andrena parasitism.
.
The families of the Strepsiptera order currently recognised in Britain are as follows:
.
Elenchidae – one species, parasitising planthoppers in the Delphacidae family.
.
Halictophagidae – two species, parasitising leafhoppers in the Cicadellidae family.
.
Stylopidae – three species within the genus Halictoxenos which parasitise solitary bees in the Halictidae (furrow bees in the genera Halictus and Lasioglossum); one species within the genus Hylecthrus which parasitises solitary bees in the Colletidae (yellow-face bees in the genus Hylaeus); and at least one, quite probably at least seven, and possibly several more species once split, in the genus Stylops, parasitising Andrena bees.
.
Xenidae – two species, one in the genus Paraxenos parasitising solitary sand wasps in the genus Ammophila, and one in the genus Pseudoxenos parasitising mason wasps in the genus Ancistrocerus.
.
For more on Stylops splitting, see the article "Host specialization and species diversity in the genus Stylops (Strepsiptera: Stylopidae), revealed by molecular phylogenetic analysis" by Katerina Juzova, Yuta Nakase and Jakub Straka, published in the Zoological Journal of the Linnean Society, 2015, 174, pp 228-243.
17 Nov 2019
Bluebirdresearch
Main navigation