Citizen Science and Global Biodiversity course iSpot project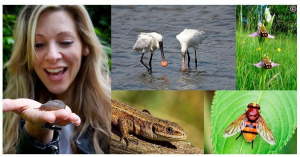 Citizen Science and Global Biodiversity course iSpot project - UK and Ireland : Welcome to this iSpot project collating observations posted by learners on the OU's new free course
Welcome to this iSpot project collating observations posted by learners on the OU's new free course Citizen Science and Global Biodiversity (CSGB). This course introduces citizen science and shows how you can become a citizen scientist, building your biological identification skills while getting involved in scientific research activities. Remember to include the tag: CSGBproject when posting your observations so they can be included here!
Whether you're active in or, new to citizen science, an experienced species recorder, a keen nature enthusiast, or just curious about the natural world this could be the course for you!
Biodiversity is complex, and untangling its many inter-relationships is fascinating. At the same time, documenting global biodiversity is a major challenge – one that is attracting volunteer involvement, i.e. citizen scientists. In CSGB you will learn that once an organism is identified, you can then research its ecology and become familiar with some of the many online resources that are available for use. As identifying and recording organisms is a core skill, you will work with traditional biological keys as well as online recording tools. You will also become more familiar with citizen science techniques through practical activities, including using
www.iSpotnature.org
. For inspiration you will also look at examples of citizen science case studies from across the world or explore ones you are already involved in.
The images above demonstrate the wonders of a citizen science discovery, and a range of observations posted on iSpotnature.org from participants seeking help with identifications. Copyright: In clockwise order: © OPALexplorenature.org // Spoonbills (Platalea leucorodia) © Bollo58 (Chris Bollen) // Bee Orchid (Ophrys apifera) © Ben Rigsby // Hovefly (Volucella zonaria) © Martin Elkins // Common Lizard (Zootoca vivipara) © Bill Welch.
15 Aug 2019
Janice A
Main navigation