Explore nature in your garden with iSpot: Take part in Gardenwatch! (UPDATE: iSpot user guide attached)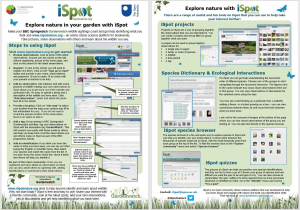 Explore nature in your garden with iSpot: Take part in Gardenwatch! (UPDATE: iSpot user guide attached) - UK and Ireland : Make your wildlife observations count on iSpot and get help identifying what you find while particip
Make your wildlife observations count on iSpot and get help identifying what you find while participating in Gardenwatch. Gardenwatch, a collaboration between Springwatch on BBC Two and the British Trust for Ornithology (BTO), which starts with the launch of Springwatch on May 27, 2019.
Gardenwatch focuses on the last great and perhaps least known wildness regions in the country – our gardens, asking you to share information about the wildlife found to help build a comprehensive picture of how gardens can help UK wildlife species to thrive in the future.
This iSpot Gardenwatch project keeps track of all the observations you and others make on iSpot throughout the BBC Two Springwatch Gardenwatch activity. Projects are an exciting feature that allow you to set up and share a page that filters and gathers together observations for a place and / or a group of species you are interested in. To have yours included make sure you add the descriptive tag 'Gardenwatch'. This will connect your posts with those made by others.
The Springwatch team are keen to see what you are posting on iSpot and may want to find out more, so look out, we may be in touch about your observations on iSpot.
On iSpot you can also have a look at what others have 'spotted', help identify observations posted by others, build your own species identification skills and learn more.
To help you make your Gardenwatch observations count with iSpot see the Guide attached.
Happy iSpotting!!!
23 May 2019
miked
Main navigation