The Burn o' Beaquoy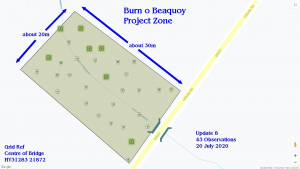 The Burn o' Beaquoy - UK and Ireland : Updated for 2020 Most recent site visit August 28 2020 Tiny Isolation Project - the Burn o Beaquoy,
Updated for 2020
Most recent site visit August 28 2020
Tiny Isolation Project - the Burn o Beaquoy, Orkney
.
..
HERE https://goo.gl/maps/dWcb5WhefJx1UiSM7 .
.
.About 30 metres by 20 metres. Now with 45 Observations.
Oh what fun I have getting the Grid references correct to 1 metre but now I have found the centre of the zone, I can plot each siting absolutely correct to one metre. It is really worth the effort.
I do not need to use the Tag (beaquoy1) as observations made INSIDE the zone ONLY are collected.
.
A delightful, small, unmanaged zone, close to the road. A (frequently dry) upland streamway with banks of calluna heath, extending to a semi-agricultural landscape.
Willow (Salix pentandra) cuttings placed in 2011/12ish (NOT by me) and now forming soft, green, sheltered, low woodland. Compare Pictures 2 and 3 - 9 years difference but with the Dune Willow (Salix hookeriana) at the bridge in both..
THIS is one of my Monitoring sites for Euura destricta.
See https://www.inaturalist.org/taxa/804876-Euura-destricta
and
http://bit.ly/2vcNNBP
and
https://www.gbif.org/occurrence/1948746448
.
A good range of organisms with stream invertebrates, wet meadow plants with some hardy upland herbs. I am not certain what a Proper Winter 'will bring'
The 16th. and 25th Aug 2018. (first visiting hours) were a delight of mild winds, fierce sunshine, scabious, willow herbs, sneezewort and loads of hoverflies - there will be a LOT more over the seasons.
My favourite Observation is https://www.ispotnature.org/communities/uk-and-ireland/view/observation/766582/painful-blitz - first visit.
.

Now Linked to Geograph© here
- https://www.geograph.org.uk/photo/6161502
.
Not far from Home, somewhere I can do low-level quiet and personal habitat research - it depends on my mood.
.

DO look at the Location map, make full page Satellite view and DRAG the yellow 'man' to the roadway
Drive over the bridge
(take care)..
.
Update Aug 2020
March 821reads
Aug 1111 reads
...
.
.
*©2018 Google (Street View) Imagery is used within the Terms of Use requirements
https://www.google.com/intl/en-GB_US/help/terms_maps/
16 Aug 2018
dejayM
Main navigation