Raikes Road Burial Ground (RRBG) Project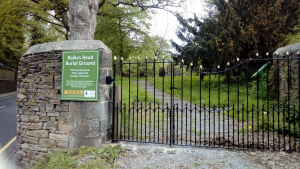 Raikes Road Burial Ground (RRBG) Project - UK and Ireland : As the voluntary Conservation Officer for this Victorian burial ground site it is my aim to record t
As the voluntary Conservation Officer for this Victorian burial ground site it is my aim to record the flora and fauna found here, with the objective of providing evidence of the site's ecological importance which, in turn, may serve to influence future management decisions and support applications for more robust conservation measures.
From the RRBG website:
"Opened between 1846 and 1876, it remains the only burial ground in the town still in its original state...Due to historical neglect, the ground has become something of a wildlife haven with trees over 250 years old, various wildflowers and grasses."
"The Friends of Raikes Road are a voluntary group that aim, with the support of Skipton Town Council & the Heritage Lottery Fund, to bring the burial ground back into the heritage of the area and restore a forgotten and neglected corner of its Victorian history."
"The restoration project, whilst respecting and preserving its cultural and environmental sanctity, will restore the burial ground to its former glory. Making it accessible to local people and visitors to the town, providing a unique and educational glimpse into the history of Skipton and south Craven, and providing space for quiet recreation and reflection on even the busiest of days."
Link:
http://frrbg.org.uk
08 May 2018
Darwin's Bulldog
Main navigation