100 x 100 x 100 - ORKNEY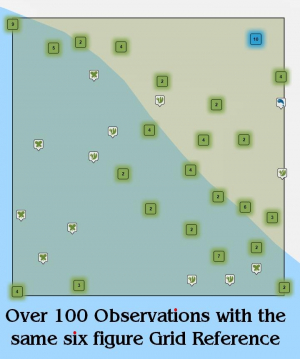 100 x 100 x 100 - ORKNEY - UK and Ireland : 100metres x 100metres x 100 observations.. ---------------------------------------------------------
100metres x 100metres x 100 observations.
.
--------------------------------------------------------------------------------
(UPDATED for October)
.
.
I have come to the end of a year long slow-blitz of a single mini-square, based on a six figure OS Grid Reference, precisely centred at HY 381555 064555
Precisely N 58.940855863240245 W -3.0766675522188507
Many Grid references (maybe not locations) are correct to 10cms x 10cms
.
See
https://finds.org.uk/getinvolved/guides/ngs
.
But read my comment about location accurancy here
https://www.ispotnature.org/communities/uk-and-ireland/view/observation/766100/egg-cloud
Actually being certain that my square on the Map and Satellite image corresponds to the real-life square has been no easy matter, a highly iterative process moving references 10cms at a time until they are absolutely right.
.
The square was chosen because of un-nurtured Aspen Trees are sharing space with Stonechat, Devil's-bit scabious, Lug-worms, blue butterflies, cockles, sawflies, sand eels and nudebranchs, the occassional jellyfish and even the persecuted Stoat
.
.
I saw many more creatures and plants, mosses and seaweeds; I still have a mass of useful material IF I decide to go 200. I had some bad visits but most were a delight. I made many discoveries and set up two other long-term study projects in th zone.
It is not an easy square because the sea covers half at high water, it is exposed to Northerlies and Westerlies, there is overhanging vegetation on the cliffs, some I cannot easily or safely reach nor study, a clutter of sea-boulders, many covered with Marine Algae or Lichens and also waist-high willow-carr and thigh-deep heathery moorland in the topmost sections.
.
To begin that process I added Observations precisely (to 12 figures) in the four corners of the Six Fig ref., then overlaid a square (See the Map) matching the four corners.
Earlier I had plotted the precise NE corner from the Toilet block seen in Streetview (an underrated feature of iSpot - try it?).
.
.
I visited the same 6 fig Grid Reference pretty often - not missing a single week and hardly missing a day. It is a five minute drive and a five minute walk. Quite often, I made no precise Observation.
Possibly unfortunately, each time I went, I gathered about 40 photos and a box full of, mostly green, debris. A further hour spent at home near the window, resulted in 20 more pictures. I now know the little square very well and I know it still holds secrets and HUNDREDS more un-iSpotted organisms
..
Near the end (September) I am closing in on this project, savouring, in a little more detail, the last few Observations and adding more to some of the sparse ones (edits).
It is increasingly obvious that this will be an INCOMPLETE project, though I will stop at 101 (or so). There are no observations of grasses, mosses, terrestrial worms, mammals and yet I have seen all of those in the Square, including the cuckoo, a grey seal an a few ladybirds. But for MY Observations I always use several convincing pictures.
.
.
I believe it fitting that Bernard the Hermit was my
final?
observation
I have set the seed for a similar project here
https://www.ispotnature.org/communities/uk-and-ireland/view/observation/766582/painful-blitz
though I have no time limit
.
.
THE GALLERY SO FAR - KLIK
. -----
https://www.ispotnature.org/communities/uk-and-ireland/view/project/746155/100-x-100-x-100-orkney/observations-gallery
.
Latest edit - 26 October . This project has ended really but still open for additional information and photographs in each Observation
1370 reads
25 Sep 2017
dejayM
Main navigation