European Micropezids & Tanypezids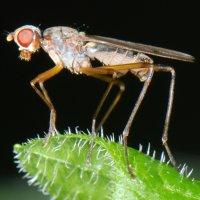 European Micropezids & Tanypezids - UK and Ireland : Extension of the UK Recording Scheme Stilt & Stalk Flies to capture European observations. These are Diptera in the superfamilies Nerioidea (families Pseudopomyzidae and Micropezidae) and Diopsoidea (families Tanypezidae, Strongylophthalmyiidae, Megam
Extension of the UK Recording Scheme "Stilt & Stalk Flies" to capture European observations.
These are Diptera in the superfamilies Nerioidea (families Pseudopomyzidae and Micropezidae) and Diopsoidea (families Tanypezidae, Strongylophthalmyiidae, Megamerinidae and Psilidae)
For an idea of what they look like or for identification take a look at the following identification sites: Dipterists Forum (http://www.dipteristsforum.org.uk/forums.php) the European Diptera.info (http://www.diptera.info/news.php) and the Dipteres section of the French Le monde des insectes (https://insecte.org/). If you're a UK user and sure of identification then iRecord is the place to add records.
05 Jan 2017
Rainieria
Main navigation