Freshwater (and Terrestrial) Algae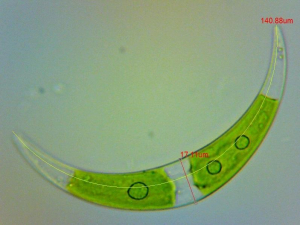 Freshwater (and Terrestrial) Algae - UK and Ireland : This is the freshwater alternative for the excellent marine algae project created by dejayM. Freshwater algae are surprisingly numerous and diverse organisms. 'A Coded List of Freshwater Algae in the British Isles' on the Natural History Museum website li
This is the freshwater alternative for the excellent marine algae project created by dejayM. Freshwater algae are surprisingly numerous and diverse organisms. 'A Coded List of Freshwater Algae in the British Isles' on the Natural History Museum website lists 5279 species, but more are being added regularly.
Most of the freshwater algae genera are microscopic, although there are a few macroscopic types (usually filamentous). The easiest to identify in my opinion are the desmids, which are green single-celled algae of many intricate forms. One of the most familiar are the Closterium which are moon-shaped.
The easiest way to find microscopic freshwater algae is to collect a pot full of pond water or directly target colonies in streams (heathland streams are usually very rich in species) and then to put a drop on a microscope slide to be examined under the microscope. The size of the individual algae varies, but they can range from ten micrometres to several hundred in length or diameter.
The best book for anyone wanting to identify freshwater algae is 'The Freshwater Algal Flora of the British Isles', which took 10 years to complete by David John, Brian Whitton and Alan Brook. It is a huge and heavy book so definitely not a field guide (but you can't observe microscopic algae in the field anyway!), but it needs to be huge to contain all of the species. Along with a key, it includes some b/w illustrations for some species and descriptions for almost all. A must buy for any budding freshwater phycologists!
08 Feb 2016
jimmymac2
Main navigation