African Clawless Otter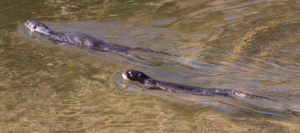 African Clawless Otter - UK and Ireland : And a general discussion about Species and Projects. Have a look at this wonderful sighting of the ACO. Question, why can't iSpot turn every Species Dictionary Page i
And a general discussion about Species and Projects.
Have a look at this wonderful sighting of the ACO.
Question, why can't iSpot turn every Species Dictionary Page into a Project? The advantages seem clear to me, such as:
* A quick way to get to the distribution map without applying filters. Though 1st prize should still be that the location of an observation shows the distribution of the other species:
Here is the example I created for Hopliini some years ago * We could then collaboratively add info for the species a bit like Marion did so brilliantly for Malvaceae .
Other info would be how to identify the species, short keys, or links to keys, as well as a mention of other species it is often confused with.

"The African clawless otter, also known as the Cape clawless otter or groot otter, is the second-largest freshwater species of otter. African clawless otters are found near permanent bodies of water in savannah and lowland forest areas. They range through most of sub-Saharan Africa, except for the Congo River basin and arid areas. They are characterized by partly webbed and clawless feet, from which their name is derived."
Wikipedia Article
17 Jul 2015
vynbos
Main navigation