Bryophyte Club! - The UK's Hornworts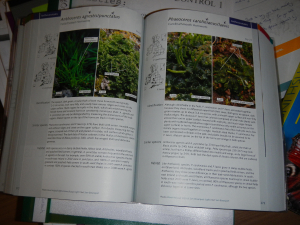 Bryophyte Club! - The UK's Hornworts - UK and Ireland : This project is intended as a branch of the 'Bryophyte Club!' project and be more taxonomically correct while hoping to extend it. If anyone has any questions about hornworts don't be afraid to ask them here! The observations are filtere
This project is intended as a branch of the 'Bryophyte Club!' project and be more taxonomically correct while hoping to extend it. If anyone has any questions about hornworts don't be afraid to ask them here!
The observations are filtered by an identification of a species in the group Anthocerotophyta or a tag 'Hornwort'.
I am not sure if there are any Hornwort observations in iSpot, but we'll wait and see and hopefully this project will encourage users to post them. There are only 4 species in the BBS Field Guide, so don't worry!
The numbers in the titles of the photographs correspond to the page number in the BBS Field Guide which that species is on.
May I please point out that in the BBS Field Guide Hornworts are under Anthocerotophyta, whereas iSpot uses the name Anthocerophyta, which I have used to coincide with iSpot. I will raise this in the forums as well soon.
The following descriptions are quoted from 'Mosses and Liverworts of Britain and Ireland: a Field Guide'
by the British Bryological Society
Anthoceros agrestis/punctatusIdentification: The opaque, dark green, circular thalli of both these hornworts are typically
2–3 cm across, look very frilly, and usually have various ridges and crests on the
upper surface. Male organs lie in pits in the thalli, which are mixed among the
female horns and incipient horns on consistently monoicous thalli. A. agrestis and
A. punctatus can only be distinguished by measuring the dimensions of the male
organs. Mature spores on the tip of the horns are black in both species.
Similar Species: Phaeoceros carolinianus and P. laevis (p. 273) have thalli with entire, rounded margins,
and without ridges and crests on the upper surface. If in doubt, measuring the male
organs, scooped out of their pit and placed on a slide, will confirm which genus is
being examined. The dark dots of Nostoc colonies in the thallus of Anthoceros species
resemble those of Blasia pusilla (p. 240), which has winged thalli and distinctive
gemmae.
Habitat: Both species occur in damp stubble fields, fallow land, ditchsides, woodland tracks
and poached field corners. In general, A. punctatus is more frequent in the west and
A. agrestis in the east. For example, over 50% of arable Anthoceros species checked
in south-east Ireland in 2002 were A. punctatus, and 100% of species in marshy
grassland and poached field corners in south-west Wales in 2005 were A. punctatus;
in contrast 100% of species checked in south-east Wales since 2000 were A. agrestis.

Phaeoceros carolinianus/laevisIdentification: Although identifiable in the field, P. carolinianus and P. laevis are treated together
because they show no differences apart from their sexes. Both grow as opaque, dark
green rosettes up to about 3–4 cm across, with a smooth upper surface and non-frilly
thallus edges. The dioicous P. laevis has colonies composed of small male plants with
almost their entire upper surface covered with male pits, and much larger female
plants with scattered reproductive organs (sometimes only visible as bumps on the
upper surface) or horns. The monoicous P. carolinianus has a few male pits and a few
female organs mixed together on a single, medium-sized thallus. P. carolinianus has
been overlooked in Britain in the past, and plants should not be assumed to be
P. laevis. Mature spores on the tip of the horns are orange in both species.
Similar Species: Anthoceros agrestis and A. punctatus (p. 272) have frilly thalli, whilst the thalli of
Blasia pusilla (p. 240) have undulate wings. Pellia species (pp. 235–237) may look
similar, but have a thallus differentiated into midrib and wings, as do large forms of
Aneura pinguis (p. 241); both lack the dark spots of Nostoc colonies that are scattered
in Phaeoceros thalli.
Habitat:Like Anthoceros species, P. carolinianus and P. laevis grow in damp stubble fields,
on fallow land, ditchsides, woodland tracks and in poached field corners, and like
Anthoceros they show some differences in their east–west distributions. In southeast
Ireland and south-west Wales, all Phaeoceros species examined in cereal stubble
fields since 2000 were P. laevis; in contrast, 80% of Phaeoceros species in cereal fields
in south-east Wales over this period were P. carolinianus, although the two species
did occur together at some sites.
For a PDF version of the field key in the BBS Field Guide, click here: http://www.bbsfieldguide.org.uk/https://api.ispotnature.org/storage/app/sites/default/files/pdfs/otherpdfs/%20BBS%20Field%20Guide%20Field%20Key.pdf
31 Dec 2014
jimmymac2
Main navigation