Walthamstow Marshes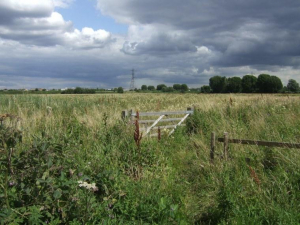 Walthamstow Marshes - UK and Ireland : In the 1970s, Walthamstow Marshes were described as the Last expanse of natural marshland left within London. [...] Most of the land surface has lain undisturbed since the Ice Age. Has never been ploughed. Topsoil silt and peat. Gravel underneath! In Sum
In the 1970s, Walthamstow Marshes were described as the "Last expanse of natural marshland left within London. [...] Most of the land surface has lain undisturbed since the Ice Age. Has never been ploughed. Topsoil silt and peat. Gravel underneath! In Summer, water table lies few feet below surface but in Winter large tracts become submerged despite fact that River Lea no longer floods."

The land was historically managed as Lammas Land; after the annual hay cut, commonors could graze their cattle and horses over winter. Eventually, the need for grazing and hay diminished, and the land was enclosed in 1934.

Several changes of ownership followed. Most of the land is now owned and managed by Lee Valley Regional Park Authority (LVRPA).

In the 1970s, LVRPA proposed to dredge the Marsh for gravel. As a result of the protest, an ecological survey was conducted WALTHAMSTOW MARSHES : THE 1970s SURVEY by SAVE THE MARSHES CAMPAIGN. The outcome was that bulk of the land was designated as a SSSI, details here and here.

The area marked for this project goes beyond the SSSI, extending to the boundaries of the open land around the Marsh. All observations within the boundary are aggregated without further filtering into this project.
27 Aug 2014
marshWalker
Main navigation