Wasp Attacking Ladybird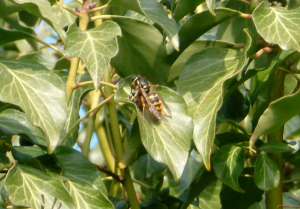 Observation - Wasp Attacking Ladybird - UK and Ireland. Description: Observed a large Wasp (common wasp?)which appeared to attack a 7 - Spot Ladybird. I have heard of parasitic wasps laying eggs in ladybirds and thought perhaps the wasp wanted to kill it for food but the ladybird appeared to be unharmed. After the a
Observed a large Wasp (common wasp?)which appeared to attack a 7 - Spot Ladybird.

I have heard of parasitic wasps laying eggs in ladybirds and thought perhaps the wasp wanted to kill it for food but the ladybird appeared to be unharmed.

After the attack the wasp settled on the next leaf while the ladybird made its escape

Can anybody explain this behaviour?
Main navigation