Bee Larvae 2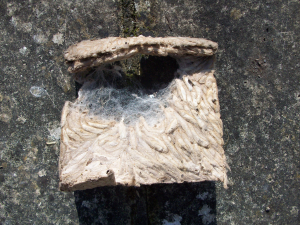 Observation - Bee Larvae 2. Description: This was removed from a bird box in my garden. Last Summer we saw bees using the bird box. It seems papery to the touch yet spongy and quite resiliant, unlike wasp nest material it was more like spiders web or silk. May still have some grubs in it. Any
This was removed from a bird box in my garden. Last Summer we saw bees using the bird box.
It seems papery to the touch yet spongy and quite resiliant, unlike wasp nest material it was more like spiders web or silk. May still have some grubs in it.
Any help or info would be greatly appreciated.