Jonathan - Pondskater - 11th October 2008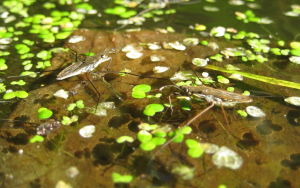 Observation - Jonathan - Pondskater - 11th October 2008 - UK and Ireland. Description: Pondskaters in abundance on the surface of my small garden pond. There are apparently about 12 species of Gerris, but if the ones in my pond are the common species this is Gerris lacustris. Gerrids are polymorphic for whether they have wings or not. The
Pondskaters in abundance on the surface of my small garden pond.
There are apparently about 12 species of Gerris, but if the ones in my pond are the common species this is Gerris lacustris.
Gerrids are polymorphic for whether they have wings or not. They feed on insects that get trapped in the surface film. Watching them up close is fascinating.
Main navigation