Coot with fishing line injury to leg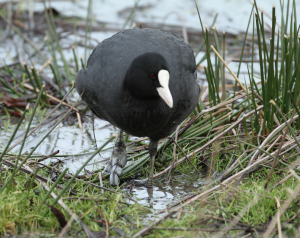 Observation - Coot with fishing line injury to leg - UK and Ireland. Description: This coot has fishing line round its foot, and it's injured. It looks as though it's an infected wound, and the bird was limping badly. Its chances of survival are minimal, and its death won't be pleasant. If you're a fisherman, or you know fishermen, p
This coot has fishing line round its foot, and it's injured. It looks as though it's an infected wound, and the bird was limping badly. Its chances of survival are minimal, and its death won't be pleasant.
If you're a fisherman, or you know fishermen, please can I urge you to do all you can to recover broken line. It's not always possible, I know, but do so if you can. And the rest of us, if ywe see any line, we should pick it up and take it home for proper disposal.
Incidentally, there was no chance of catching the bird - it was on soft mud, anyway it was capable of flying even if I'd been able to reach it. The last bird I saw in this condition was a mute swan at Fowlmere; it died.
Main navigation