Silk Tassel Bush, St. Lawrence, Isle of Wight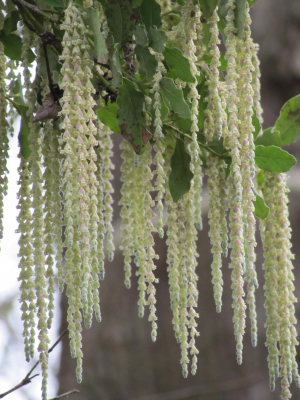 Observation - Silk Tassel Bush, St. Lawrence, Isle of Wight - UK and Ireland. Description: Ok I know it's been on already this week, but just had to add my observation of this splendid plant! Garrya elliptica is one of the classic winter flowering shrubs flowering from November - March and noted for it's wonderful crop of silvery, grey catkins
Ok I know it's been on already this week, but just had to add my observation of this splendid plant!
Garrya elliptica is one of the classic winter flowering shrubs flowering from November - March and noted for it's wonderful crop of silvery, grey catkins.
Introduced to the UK by the plant hunter David Douglas from California. One of the gems of the winter garden!Sorry the close up of the catkins is not sharp, was some distance away and had to zoom in.
Main navigation