Mucilago crustacea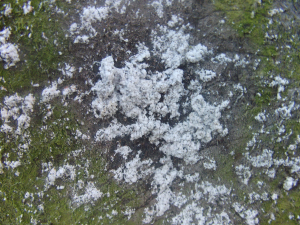 Observation - Mucilago crustacea - UK and Ireland. Description: This looks like Mucilago crustacea however it is a little bit deep into winter for it. It does have little black spore capsules in it like as if it is slime mold. The other issue i have with this is that i have observed it on the trunks of beech and on no
This looks like Mucilago crustacea however it is a little bit deep into winter for it. It does have little black spore capsules in it like as if it is slime mold. The other issue i have with this is that i have observed it on the trunks of beech and on no other trees.
I have seen it on a Birch trunk in November and posted it with many other specimens seen over a small area close to each other.

http://www.ispot.org.uk/node/237775

It looks like it is a bit high up the trunk of the tree for my liking. Perhaps we need an expert on this one. The last image was about half a mile away from the three trees it was on where i could get in for a close-up of one of them. They were all Beech.
Main navigation