Trametes pubescens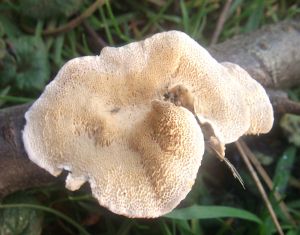 Observation - Trametes pubescens - UK and Ireland. Description: Found growing on a fallen Prunus branch at the base of a hedgerow that has been allowed to grow into mature trees. The under side is of two merged brackets that have formed on the under side of a twig that is about 25mm thick on the left side of the ima
Found growing on a fallen Prunus branch at the base of a hedgerow that has been allowed to grow into mature trees.
The under side is of two merged brackets that have formed on the under side of a twig that is about 25mm thick on the left side of the image and 20mm on the right. Plenty of insect holes in the wood too. That little grey beetle might just have come out of one of the holes though.
That top image almost warrants another visit!
Nice fruit in the summer too.
Main navigation