Owl in badger sett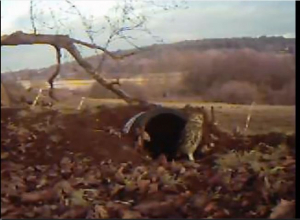 Observation - Owl in badger sett - UK and Ireland. Description: The image is a still from a video produced by a TRAIL CAMERA which is used to observe the activity at an artificial badger sett.It is located close to my home but for security reasons, I would wish not to give the exact location. There are 2 videos on my
The image is a still from a video produced by a TRAIL CAMERA which is used to observe the activity at an artificial badger sett.It is located close to my home but for security reasons, I would wish not to give the exact location. There are 2 videos on my You Tube channel which feature the little owl, recorded within a couple of days of each other. The full video from which this is a still can be seen via this link.....
http://www.youtube.com/watch?v=3zkdqaXeYWU&list=UU7hRQmkFV6L0GZd9MYWC0Qw&index=50&feature=plcp
Are there any other records of this sort of behaviour?
Main navigation