Strange Bees and Grubs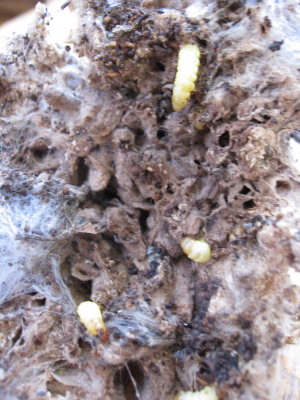 Observation - Strange Bees and Grubs - UK and Ireland. Description: During the spring some black bees evicted a pair of blue tits from one of our nest boxes. The bees seemed quite agressive but we didn't get stung - just kept from the box. We didn't see any particular marking on the bees - just plain black. This week
During the spring some black bees evicted a pair of blue tits from one of our nest boxes. The bees seemed quite agressive but we didn't get stung - just kept from the box. We didn't see any particular marking on the bees - just plain black.

This week (12th Jan 2012) I opened the box to see what the bees had done. There was a small "nest" at the top of the box that came unstuck when I lifted the lid. It seemed that any larvae had long since gone and there were marks on the wood suggesting that they had "eaten" their way out of the nest by eating the surface of the wood. These scars were quite shallow - similar to the marks left under the bark of elm trees during the Dutch Elm disease epidemic. We left the nest outside under cover to keep to show our daughter, but a couple of days later after a frosty night found the grubs shown in the photo had emerged over night and presumably died of the cold. This was a surprise as we thought that we had an empty nest.

Does anyone have any idea what the bees were, and also would these grubs be ones left by thye bees or would they have been left by some other insect?
Main navigation