Hedgehog scats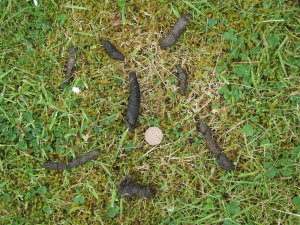 Observation - Hedgehog scats - UK and Ireland. Description: Just a selection of hedgehog droppings from the garden - the coin is a 1p - diameter 20mm. They can also be substantially smaller/thinner. The only possible confusion in the huge majority of gardens in particular would be with wood-pigeon droppings, but
Just a selection of hedgehog droppings from the garden - the coin is a 1p - diameter 20mm.
They can also be substantially smaller/thinner.
The only possible confusion in the huge majority of gardens in particular would be with wood-pigeon droppings, but bird droppings invariably have a white urate cap or streak.
They sedom contain much that is recognisable except insect exoskeleton but they will eat birds (especially nestlings from nests built low in a hedge), and I don't think they'd refuse a dead mouse, or their young if they found them, so the occasional scat with feathers or fur is to be expected.
Main navigation