feathers found on lawn as though from a meal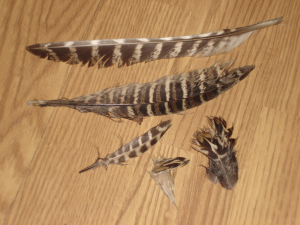 Observation - feathers found on lawn as though from a meal - UK and Ireland. Description: I found these and about thirty others like them scattered in an area of lawn approximately 1mx1m, in a way that suggested they were the remains of a meal. There were only feathers (no bones or other body parts); some were broken cleanly at the shaft and t
I found these and about thirty others like them scattered in an area of lawn approximately 1mx1m, in a way that suggested they were the remains of a meal. There were only feathers (no bones or other body parts); some were broken cleanly at the shaft and there were two sets stuck together (one set I took to be breast feathers, the others wing feathers). The longest are about 20cm long.
Having collected all of the feathers up I was surprised to find another scattering of the same sort on 23/12/2011, in exactly the same place.
Most importantly I would like to know what species they came from - the closest match I can find in a book is grey partridge (NBN shows it recorded in this area, but I have never seen one).
I am also interested in the predator. Foxes, badgers and domestic cats frequent the garden and might have brought it in (having caught or scavenged it).
Main navigation