DSCF2458-1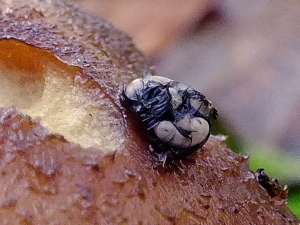 Observation - DSCF2458-1 - UK and Ireland. Description: So, just what is this life form? Found on what i believe to be a honey fungus. It's approx 3-5mm across and has a symmetrical appearance, as you can see it has what looks like hairy bits. As seen on the image attached it has what appears as two lin
So, just what is this life form?

Found on what i believe to be a honey fungus.
It's approx 3-5mm across and has a symmetrical appearance, as you can see it has what looks like hairy bits.

As seen on the image attached it has what appears as two linked cells on each side with a single dot in each main section. Across the front are what looks like a some comedy moustaches and a wet hairy front piece. A single white/grey patch behind that has two separate white grey patches divided by more hairy like material on the spine, of which goes back to a point forming a slight tail like feature.

As per the image, small hairy feet features are observed near the front/to the sides.

Conditions at time of seeing this were bright and sunny, though heavy rain fell a few hours previous.

I think it to be an insect in pupa stage.
Main navigation