Damselfly nymph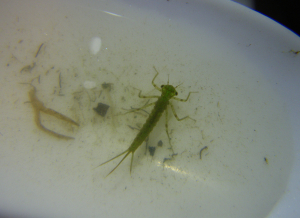 Observation - Damselfly nymph - UK and Ireland. Description: Found in freshwater pond, in wildlife area, next to river Foss. At first I thought it was a mayfly nymph, because of the 3 tails (I'm very new to freshwater invertebrates!) but the shape of it's body seems to suggest damselfly nymph, though the tails are
Found in freshwater pond, in wildlife area, next to river Foss.
At first I thought it was a mayfly nymph, because of the 3 tails (I'm very new to freshwater invertebrates!) but the shape of it's body seems to suggest damselfly nymph, though the tails are not as leaf-shaped as my book seems to be saying they should be-?
If any one can help me identify this fabulous little creature I would be very grateful!
Main navigation