Loadsa fungus on stump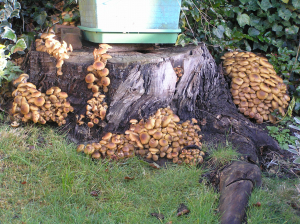 Observation - Loadsa fungus on stump - UK and Ireland. Description: I had a similar single group of this(?) fungus in mid October and now (12/12/2011) a huge amount on my eucalyptus tree stump. I am happy for anyone identifying this as edible and how to prepare to take half. Cap diameter: (mature) 7inches, 175mm C
I had a similar single group of this(?) fungus in mid October and now (12/12/2011) a huge amount on my eucalyptus tree stump.

I am happy for anyone identifying this as edible and how to prepare to take half.

Cap diameter: (mature) 7inches, 175mm
Cap colour: (mature) buff/brown
Gill colour: cream/buff
Spore colour: cream/buff
Odour:
Texture: Mushroom-like or slightly more firm
Location: Eucalyptus tree stump against west facing wall, Chelmsford.
Main navigation