IMG_2501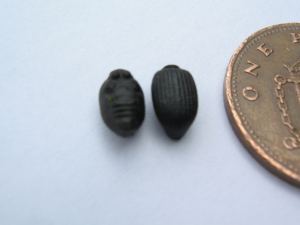 Observation - IMG_2501 - UK and Ireland. Description: What came out of this insect casing? Hi. I have a small garden pond. At the beginning of May last year I came across quite a few of these small black objects floating on the surface of the water. At first I thought they may be seeds, but on closer insp
What came out of this insect casing?

Hi. I have a small garden pond. At the beginning of May last year I came across quite a few of these small black objects floating on the surface of the water. At first I thought they may be seeds, but on closer inspection they seem to be the cast off of some sort of insect that has emerged from them.
I am sorry about the picture quality but as you can appreciate (from the penny) they are pretty small.
O.K. It looks to me as if some beetle type of insect has changed, chrysalis style, into some type of winged insect that has then broken off the head of the now empty shell and then flown away.
Am I right? And if so what is it?
Any answers, as always, greatly appreciated.
John.
Main navigation