Small brown garden 'toadstool'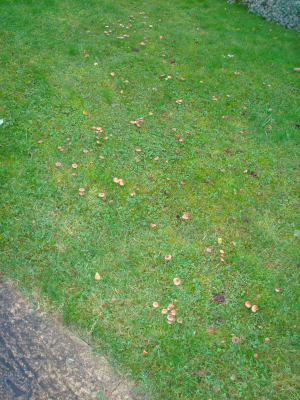 Observation - Small brown garden 'toadstool' - UK and Ireland. Description: These 'toadstools' first appeared 5-6 years ago as a distinct 'fairy ring' in the middle of the lawn. They have reappeared every November. The 'ring' has grown progressively outwards - increasing in radius by perhaps half a metre a year, though the ri
These 'toadstools' first appeared 5-6 years ago as a distinct 'fairy ring' in the middle of the lawn. They have reappeared every November.

The 'ring' has grown progressively outwards - increasing in radius by perhaps half a metre a year, though the ring-like appearance has now been reduced to two clusters moving in opposite directions. This year the main cluster seems to have colonised the grass over the track of an old, now buried, pathway.

Since the photos were taken we have had a frost and the caps of the toadstools have turned up at the edges, making the cap viewed from above concave rather than convex.

This year's display has been particularly spectacular.
Main navigation