IMG_3555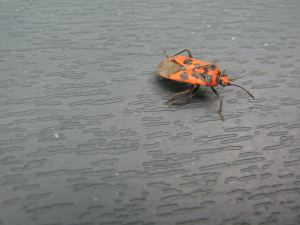 Observation - IMG_3555 - UK and Ireland. Description: Hi. As you can see I am very new to iSpot so please bear with me, and please look at all of my photos before reading on. O.K. here goes… I am 54 years old. When I was a teenager most of the houses in the Birmingham area were I lived all had privet hedges
Hi. As you can see I am very new to iSpot so please bear with me, and please look at all of my photos before reading on.
O.K. here goes… I am 54 years old. When I was a teenager most of the houses in the Birmingham area were I lived all had privet hedges and when I cut the hedge I often came across the green guy that you can see in the photos. I was always struck by the way that he perfectly blended in with the privet. Note his dark brown wing tips which are an almost identical match to a small dieing privet leaf. Now private hedges are quite an unusual feature and I hardly ever see this chap anymore. However I have come across what I believe to be the same insect only in a very dark brown colour. I have seen the dark brown variety on the bark of trees and a few months back when I was treating a paneled fence (there were quite a lot on this but unfortunately I seem to of deleted the photo).
Anyhow, imagine my surprise when this little psychedelic chap appeared in my garden a few weeks ago. Yes his neck looks a bit different but I am sure you can see a similarity. So who is he and does he, as I suspect, survive by mimicking what ever he is living on? If this is the case what does "psychedelic guy" live on?
Of course I do realize that this may be just three different (but closely related) species, but I would love to know.
Thanks. John.
Main navigation