Huge fungus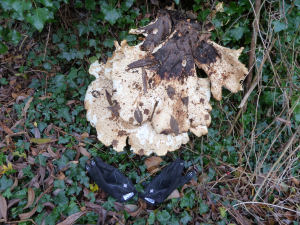 Observation - Huge fungus - UK and Ireland. Description: I saw this fungus byside the canal the other day but didn't have my camera, luckily it was still there today. The gloves in the first photo are mine for scale, the second photo is the stem which had broken close to the trunk, the third photo shows the
I saw this fungus byside the canal the other day but didn't have my camera, luckily it was still there today.

The gloves in the first photo are mine for scale, the second photo is the stem which had broken close to the trunk, the third photo shows the underneath.

The tree itself had been pollarded and was covered in ivy but I think it was a willow. The last photo shows the bark above the ivy!
Main navigation