17112011 three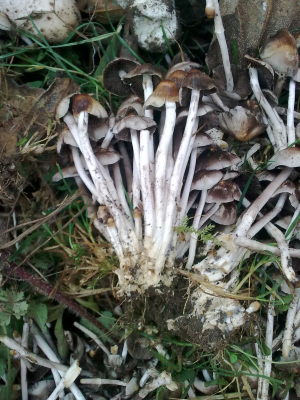 Observation - 17112011 three - UK and Ireland. Description: All the fungi shown have been found on one lawn in the village of Histon just north of Cambridge, so on chalky clay. The lawn faces south and gets a lot of light. I know there is a Honey Fungus, Armillaria, in the garden and that last year one of those
All the fungi shown have been found on one lawn in the village of Histon just north of Cambridge, so on chalky clay. The lawn faces south and gets a lot of light.

I know there is a Honey Fungus, Armillaria, in the garden and that last year one of those grass seed and fertiliser mixes was used to patch repair it. Picture 17112011 three could be Honey Fungus or is it a sulphur tuft?

Pictures 17112011 ten and eleven are not too clear I know, the important thing might be that the gills did not appear to go to the stalk, there seemed to be a clear ring around it.

I have not seen some of these on the lawn before. Other than these there are lots of Shaggy Inkcaps. Any help on ID would be appreciated.
Main navigation