Fungus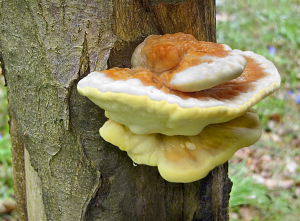 Observation - Fungus - UK and Ireland. Description: It looked like a young fungus, in development, probably 200mm across. A clear liquid can be seen on and dripping from, the fungus. I do not recall recent rain in the area. It was growing c.a. 1.5m above the ground and was facing roughly N.W. The colours
It looked like a young fungus, in development, probably 200mm across. A clear liquid can be seen on and dripping from, the fungus. I do not recall recent rain in the area.
It was growing c.a. 1.5m above the ground and was facing roughly N.W.
The colours look about right on my p.c., however, on my laptop they look slightly different and appear darker. I don't know how it will appear on the iSpot site.
Main navigation