Giant Fly Agaric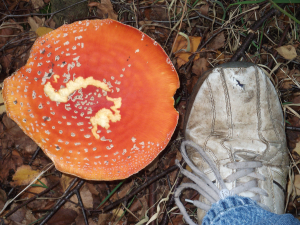 Observation - Giant Fly Agaric - UK and Ireland. Description: There are some very large Fly Agaric in this plot of woodland. I wonder if there is anyone out there whom has also noticed this. The biggest was about 20cm across. Can you find a bigger one? I have shown a few more 10 cm ones that were dotted around wit
There are some very large Fly Agaric in this plot of woodland. I wonder if there is anyone out there whom has also noticed this. The biggest was about 20cm across.
Can you find a bigger one?
I have shown a few more 10 cm ones that were dotted around within about 20 yards of the giants.
Soil:- Limestone and Leaf-mold with Badger browsing under a mostly Birch canopy.
Main navigation