Goosander Startles Little Egret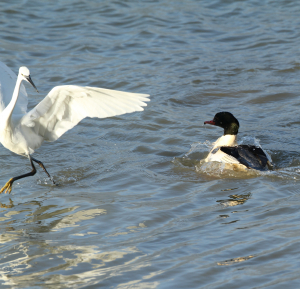 Observation - Goosander Startles Little Egret - UK and Ireland. Description: This male goosander gave the little egret a bit of a shock by surfacing right next to it. If I'd known the goosander was there, I'd've framed the shot better. There was something of a feeding frenzy going on, with egrets, goosander, cormorants, black-he
This male goosander gave the little egret a bit of a shock by surfacing right next to it. If I'd known the goosander was there, I'd've framed the shot better.
There was something of a feeding frenzy going on, with egrets, goosander, cormorants, black-headed gulls, a grey heron and a great black backed gull all taking advantage of a shoal of small fish, either dace or small chub, in the shallows. See second picture, showing little egret (not the same one) with its lunch.
The third photo is of female goosander taken a minute or two earlier.
Main navigation