Fungi observed on pasture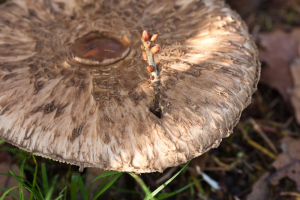 Observation - Fungi observed on pasture - UK and Ireland. Description: The first three photos are fungi observed in pasture, under an oak tree. One of them appears to have a small seedling growing in it (or is it an oak twig that has been pushed up as the fungus appeared?). Is it a Parasol Mushroom - does not look quit
The first three photos are fungi observed in pasture, under an oak tree. One of them appears to have a small seedling growing in it (or is it an oak twig that has been pushed up as the fungus appeared?).

Is it a Parasol Mushroom - does not look quite right?

The last picture is a group growing in mown grass.
Main navigation