Invertebrate larvae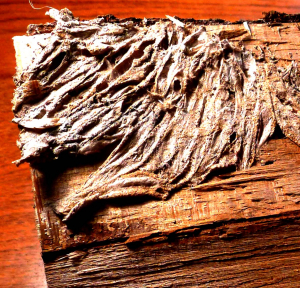 Observation - Invertebrate larvae - UK and Ireland. Description: Inside a split log we found a layer of 2cm long ?larvae, greyish, slightly sticky, each wrapped in a fibrous covering which was very tough and adhered strongly to the wood and each other. Almost impossible to separate on out from the mass. Very curious a
Inside a split log we found a layer of 2cm long ?larvae, greyish, slightly sticky, each wrapped in a fibrous covering which was very tough and adhered strongly to the wood and each other. Almost impossible to separate on out from the mass.
Very curious a to what they are.
Can anyone give us a clue?
Main navigation