Badger latrines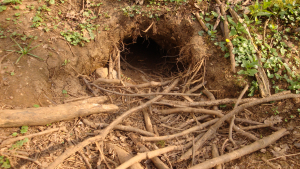 Observation - Badger latrines - UK and Ireland. Description: Amongst the deep holes of the badgers sett were scrapes into which the badger(s) had deposited their faeces. There were several of these small latrines each filled with droppings of varying degrees of dessication. It did not appear that the Badgers had at
Amongst the deep holes of the badgers sett were scrapes into which the badger(s) had deposited their faeces. There were several of these small latrines each filled with droppings of varying degrees of dessication. It did not appear that the Badgers had attempted to cover the faeces.
The sett was extensive covering an area of about 20 square metres and had numerous holes some of which looked old and out of use whilst others had much fresh material outside with fresh footprints. I looked for the badger hairs caught on the overhanging roots but found none. The sett holes were in the soft shallow soils of the Greensand Ridge, a line of distinctive hills made of Lower Greensand which stretches across Bedfordshire.
The two pence coin near to the latrine provides scale.
Main navigation