Seeing is believing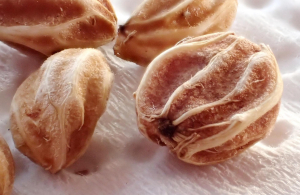 Observation - Seeing is believing - UK and Ireland. Description: Go here first https://www.ispotnature.org/communities/uk-and-ireland/view/observation/800697/ I did
Go here first
https://www.ispotnature.org/communities/uk-and-ireland/view/observation/800697/
I did not fully believe the ID,
So I set-to today, trapped some berries and and caught similar ones for comparison. All naturalists should do that.
I sat at the table, clear off the flesh, counted the seed looked closer and close. All photographers should do that
.
.
NOW you can go back to Ian's (Thistle) and safely agree.
You ought to agree to mine, it results from a naturalist's inquisitive mind and it IS correct
Holly berries rarely rest on the ground to bleach out to the scene in Thistle's Observation. So might they be the result of a bird-dropping?
Holly berries may had fours seeds, mostly three, one or which, rarely two, may be viable - I concluded.
.
Poppy seed is shown for interest
Seeds are fun, why is there not a growing collection of all plant seed in iSpot?
https://www.ispotnature.org/communities/uk-and-ireland/view/observation/767532/spergularia-media-seeds
https://www.ispotnature.org/communities/uk-and-ireland/view/observation/789869/euphrasia-seeds
There's more.
And more to come
Main navigation