Crime scene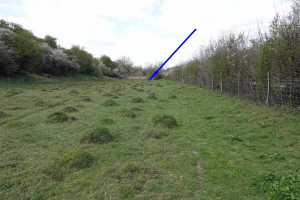 Observation - Crime scene - UK and Ireland. Description: The brisk breeze had spread some of the evidence over quite a wide area. There was very little blood
The brisk breeze had spread some of the evidence over quite a wide area. There was very little blood evident, and the quills do not appear to have been bitten/snipped off.
Can anyone suggest the predator/scavenger, and can anyone agree with or correct the missing avian?
With the East Coast mainline on the embankment to the west (left), and a road to the east, it may well have been taken as carrion rather than caught live. Plus, given the species I believe it is, more deliberate human intervention is a possibility.
Main navigation