Fabulous Buzzing Spider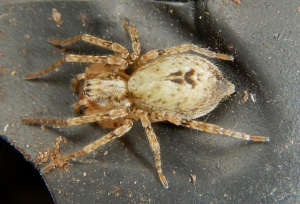 Observation - Fabulous Buzzing Spider - UK and Ireland. Description: New species to me for sure. . The males tap their pedipalps and front legs on the females retreat to
New species to me for sure.
.
The males tap their pedipalps and front legs on the females retreat to attract her, making a buzzing sound!
.
This is a female. European spider of the year 2015 no less.
.
https://siriscientificpress.co.uk/blogs/news/63416131-european-spider-of-the-year-2015-buzzing-spider
.
2 dark lateral bands flank a pale yellow-brown median band on carapace with 2 dark spots behind the eyes. Outer edges contain small pale streaks. Abdomen is pale yellow with 2 distinctive forward pointing dark arrows. Legs are yellow-brown with dark marks sometimes amounting to annulations.
.
Two out of the 3 species are so rare and have such limited distribution that Naturespot website claims only one U.K. species. There are actually 3 in the good book.
.
Sabina - recent addition (2014) to U.K. and very much limited to neglected urban areas in London - not that!
.
Numida - arrived even later (2017) - limited to even smaller area (2 nature reserves) in London AND it doesn't appear until November - not that either!
.
Leaving Anyphaena accentuata.
Main navigation