A name at last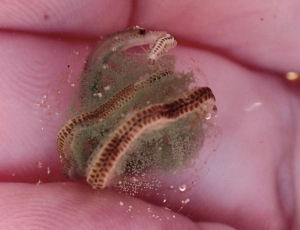 Observation - A name at last - UK and Ireland. Description: Phyllodoce mucosa Örsted, 1843. http://www.marinespecies.org/aphia.php?p=taxdetails&id=152441 . I fo
Phyllodoce mucosa Örsted, 1843
.
http://www.marinespecies.org/aphia.php?p=taxdetails&id=152441
.
I found my first spawn yesterday - but not what I was expecting nor hoping for.
But the time is just right for the green-blobs-on-the-beach - such a lengthy discussion on the web and with around eight previous iSpot observations trying to come to some sort of conclusion.
.
Well, several hours later I have a conclusion - just for this one and possibly all the tight-seasonal ones on this bit of coastline.
These worms were NOT green but the eggs were. Everything was remarkably mucosal - sticky to the point of near impossibility
As you will see, I ventured beyond the assumption stage and researched for hours, maybe three.
Microscopy confirmed my record and strengthened my confidence.
.
I found the blob whilst looking for and expecting something else. It was a lucky break as the worms were actually wrapped in egg production mode.
The first 6 illustration are field-photos. I always carry a scale card and, goodness, how useful it was. It is rare to find a specimen of the blob with parents.
At home, warmer and full of eagerness, I separated the worms, with slimy difficulty, from the egg cocoon.
These are not easy creatures to 'microscope' at x200, every tiny tremble moves them out of the field and they were incredibly mobile. There is only one, final, solution. A tiny thimbleful of my precious Glenfarclas 105° ethanol. There followed a very aromatic half hour session.
.
This then is a pair of
Phyllodoce mucosa
- I have to assume male and female.
The web is exceptionally useful for these, my two handbooks (Fish&Fish and Hayward&Ryland) not quite so.
.
The rest then is well illustrated and maybe the first of two Observations (I have 139 photos)
.
Some supporting resource
◘
http://species-identification.org/species.php?species_group=macrobenthos_polychaeta&id=805
◘
https://pbs.twimg.com/media/BrhneNICUAAIdMU?format=jpg&name=large
◘
https://pbs.twimg.com/media/DderTsKV0AEzba_?format=jpg&name=large
◘
https://pbs.twimg.com/media/Dd3bWIRUQAE6zbF?format=jpg&name=medium
◘
https://www.aphotomarine.com/worm_phyllodoce_mucosa.html
.
Partnered with
◘
https://www.ispotnature.org/communities/uk-and-ireland/view/observation/800155/life-goes-on
.
.
Now one of a series click on the tag
Main navigation