Winter Shade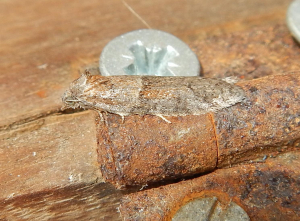 Observation - Winter Shade - UK and Ireland. Description: Trying very succsessfully to discguise itself as a rusty hinge on the table I set my moth trap on. I
Trying very succsessfully to discguise itself as a rusty hinge on the table I set my moth trap on.
I had folded up the table and put it away, then got it out again to do some running repairs when I spotted this!
It has been confirmed as Tortricodes alternella by facebook micro moth group.
Main navigation