Marker for the missing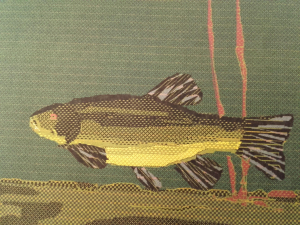 Observation - Marker for the missing - UK and Ireland. Description: There are no tench on Ispot. Though fish are under-represented generally, and for fairly obvious rea
There are no tench on Ispot. Though fish are under-represented generally, and for fairly obvious reasons, this is still a surprising absence.
This isn't a real tench; it swims around in my head, and this image materialised one day years ago when I was introduced to a computer on which I could experiment drawing shapes with a mouse and filling them in with textured colour.
Many people buy a 'green' tench from a garden centre, take it home, put it in their pond and never see it again.
Beautifully slow, rounded, smooth and quiet fish, they live admirably unhurried lives. I've kept them at various times through life, feeding them by hand. I've watched them in ponds, lakes, tarns and even in a brook where there presence was completely unsuspected.
Young fish appear a soft olive green, with tiny embedded scales offering a faint gold gleam, but progressively the fish darken as they grow and can appear dark purple, almost black. They live for decades - combing the silt for larvae, hanging in the shade of lilies, sipping snails from the leaves, becalmed completely through the colder months.
Main navigation