Two at a time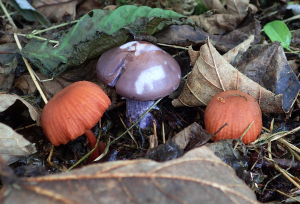 Observation - Two at a time - UK and Ireland. Description: It is sometimes a good idea to collect two different mushrooms. Why? Because they will have differen
It is sometimes a good idea to collect two different mushrooms. Why?
Because they will have different ID features, not just colour, not just shape.
You need to look at gill arrangement
Stipe to cap architecture
The under edges
Stipe to ground detail
Perhaps even the spore
.
You need to READ descriptions and decide what is seen and what is absent on one and not the other.
OK, these are opposites in looks but the process is all important.
.
Smells
Texture
You need to understand some of the words
Sinuate, bulbous at the base, incurved margin,
September to November
Strongly perfumed and with a pleasant taste - oh yes!
.
And hey, it's fun
The Deceiver Laccaria laccata and the Blewit!
.
Now see
https://www.ispotnature.org/communities/uk-and-ireland/view/observation/793860/
Check and agree to a few Otyer Observations
Main navigation