Pug Moth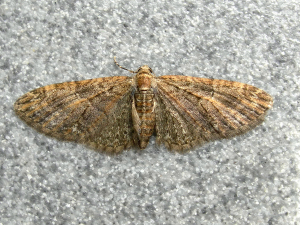 Observation - Pug Moth - UK and Ireland. Description: Pug Moths are notoriously difficult to identify and this one is no exception. The more likely Pugs to find at this time of the year in Berkshire are: Double-striped, Brindled and Oak-tree.I have ruled out Double-striped in this case as there do not appe
Pug Moths are notoriously difficult to identify and this one is no exception.
The more likely Pugs to find at this time of the year in Berkshire are:
Double-striped, Brindled and Oak-tree.I have ruled out Double-striped in this case as there do not appear to be any black-edged cross lines. Therefore I think it is between Brindled and Oak-tree. Brindled normally has a distinct black central spot in the forewing, but this appears to be absent. The Oak-tree has Orange-brown scales along the leading and trailing edges of forewing and this does seem likely in this photograph. Therefore I am plumping for Oak-tree Pug. Has anyone else got any ideas?
Main navigation